Have you heard of Ally's Savings Buckets or virtual money buckets? 
If not, you are in for a treat! 
Ally's Savings Buckets are a way to organize and optimize your money within one savings account. This feature allows you to split up your savings into different categories and personalize your saving goal by naming them. 
This is one of my favorite tools to share with my clients because your motivation increases exponentially when you visualize your savings goals. Personalizing your savings goals by name  =  you save more!
From 'Wedding Gown' to 'Home Down Payment,' digital Buckets help people stay focused on the things that matter most to them.
Here are 5 ways you can use Savings Buckets to take the stress out of your finances:
1.To plan for life's expected and unexpected expenses:
You

can't

control when life will happen, but you

can

control how you feel it financially. 

Auto Expenses 

Saving up for new tires

Unexpected car repair

Home Repair

Surprise plumbing leak

Saving for a bathroom remodel project

Pet/Vet

Emergency surgery 

Regular vet exam costs
2. To set and track specific goals: 
Set up a bucket to clearly see your goal without commingling it with other saving goals. It's much more exciting to tuck away $25 here and there when you can direct it towards a specific purpose. 

Peleton

Wedding gown

Furniture 
3. To stop feeling guilty:
Budget for things you value or make you feel good. This is great for those who might have a scarcity mindset and have a hard time spending on special events.

Botox or Personal Grooming Account

Travel and Entertainment

Concerts

Girls weekend

Ski passes
4. To give yourself a budget: 
Do you find yourself overspending on specific categories? Set-up monthly contributions and give yourself an easy to manage budget when the time comes. Tuck away $25 a month and you'll have a healthy Christmas Fund to use at the end of the year. Some other area's this works well for: 

Gifts (birthdays, engagements, etc.) 

Shopping 

Hobbies
5. To save for large and annual expenses:
Do annual expenses catch you by surprise? It can be a bummer when your budget is totally on track and then you get that car registration in the mail. To counteract this, break down these yearly expenses into monthly "bills" and transfer that amount to your ally account for that area. Examples of annual costs might be: 

Car registration renewal

Car insurance

Amazon renewal

Subscription renewal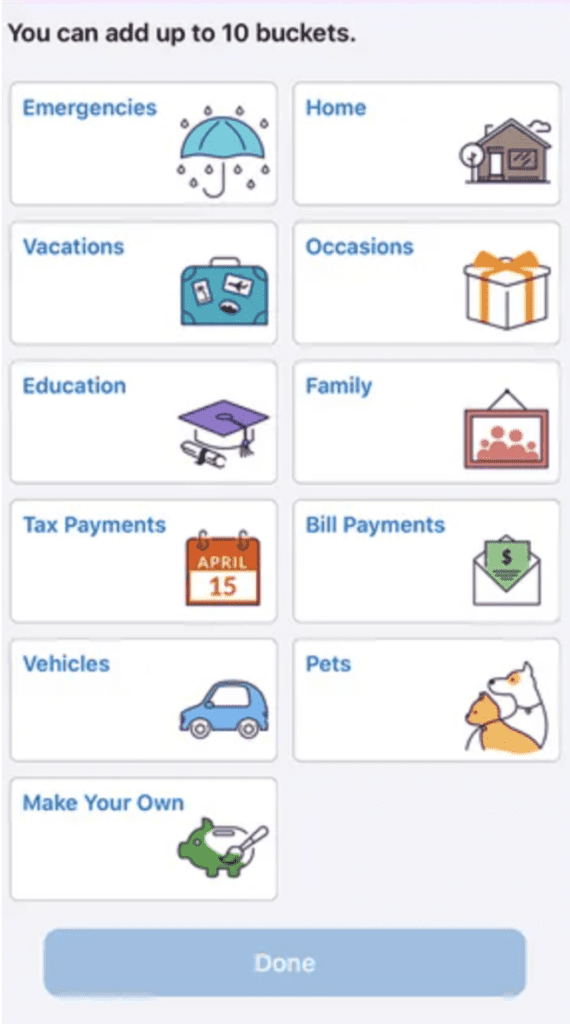 FYI: This also works for big ticket goals you are working towards. You can reverse engineer your savings plan to hit these goals. 
Down Payment on a house or car
IVF
Vacation 
Read more about how to reverse engineer your goals HERE. 
The best part about savings buckets is you no longer need multiple bank accounts, envelopes, etc.… Ally gives you the option to create up to 10 different buckets within one savings account. Each bucket can be assigned a different goal or purpose. Hello, organization! 
This is hands down my client's favorite tool that I teach them. In fact, 100% of my clients report back that they use and love this system.  I went over the basics here but a Power Plan session can help us dig deeper into how exactly to set up these accounts to improve your personal cash flow & savings strategy. 
If you already use savings buckets, drop me a comment and let me know what you are using it to save for!
Hi, I'm Mickallyn, a Mortgage Lender/Banker turned Financial Coach.  When student loans put me in debt, I knew I didn't want to live the rest of my life paying them off, so I figured out how to pay them all off in just a year. Now I have zero debt, 3 homes, 4 college degrees and am raising two little boys. I've traveled to over 22 countries and live a debt free life. I'm committed to helping others do the same through 1 on 1 coaching and personalized plans that actually work.
Follow me on social media for financial planning tips!
Over 27 five-star reviews on Google
"MicKallyn has literally
changed my financial life".